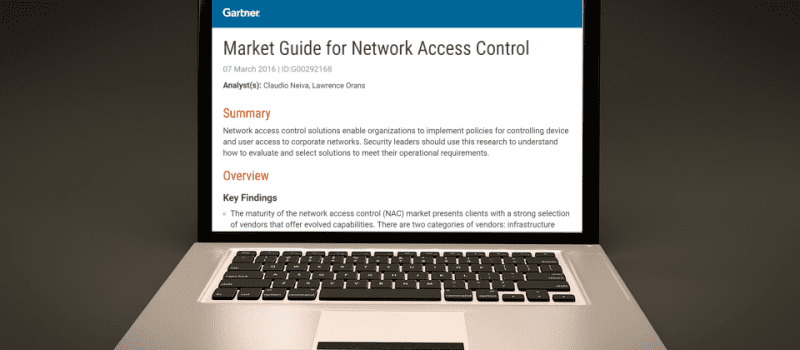 Gartner has released its 2016 Network Access Control market guide. In years past, the industry analyst chose to release a yearly "magic quadrant" displaying the leaders, visionaries and more in one neat display. Because of the relative stability of the NAC industry and the decrease in market participants, Gartner chose to format their yearly analysis as a market guide.
With this guide, Gartner has provided market analysis, industry predictions, and a look at some of the biggest names in NAC today.
You can download your copy now from Pulse Secure.
---
So What is Network Access Control?
Network Access Control (NAC) solutions allow organizations to implement policies for controlling device and user access to corporate networks. Some of these policies include device authentication and endpoint configuration and device authentication.
In today's landscape, the NAC marketplace needs to adapt to fit the wide-ranging needs of a diverse customer base. With the increase in companies that allow BYOD (Bring Your Own Device), the rise of the Internet of Things, and guests and contractors that request access to a company's network, NAC is becoming a necessity for most organizations.
This past decade has seen the market mature from a scattered collection of providers to a market driven by a number of network access requirements. NAC solutions typically require these minimum characteristics:  Policy Management, Baseline, Access Control, Guest Networking Services, Proofing and Visibility, and Bidirectional Integration.
NAC solutions tend to fall into two distinct categories; infrastructure vendors and pure-play vendors. Gartner provides a detailed rundown of the benefits and unique features connected to each respective category.
Where's the market heading?
Gartner's NAC Guide provides in-depth insight on the latest trends in the market as well predictions about the future of the industry. This is a market that seems to be in flux, adapting to the latest developments in enterprise technology. With the Internet of Things and BYOD programs becoming increasingly popular in the workplace, consumers are looking for a NAC solution that fits their wide-ranging needs. According to the report, the NAC market is expected to have grown by 18% in the last year, achieving a market size of roughly $543 million.
---
Big Names in the NAC Market
Aruba – Hewlett Packard's NAC solution, Aruba ClearPass Policy Manager offers a RADIUS based solution available for both hardware and virtual appliances. This solution offers guest access management, device onboarding, and endpoint posture assessments across a variety of operating systems.
Pulse Secure – Pulse Secure was established through the acquisition of the Junos Pulse product line by Siris Capital in 2014. Aside from its NAC solution, Pulse Secure also offers a Virtual Private Network solution and a mobility security solution. Their NAC solution is based on the RADIUS platform and is available through both hardware and virtual appliance.
Cisco –  Cisco's Identity Services Engine policy sever is RADIUS based, allowing Cisco to support authentication in diverse network infrastructure environments. Cisco's NAC solution is available as hardware and as a virtual server.
Extreme Networks –  Extreme Networks is a San Jose based company providing NAC solutions after acquiring Enteraysys Networks. In addition to its NAC solutions, Extreme Networks also provides security products in the IPS and next-generation firewall, and SIEM areas. Extreme Networks' NAC solution is RADIUS based and is available as hardware or as a virtual appliance.
Auconet –  Auconet is a San Francisco based company originally founded in Germany. Since 2005 Auconet has been delivering NAC solutions combining NAC security and network troubleshooting capabilities into one product. Auconet provides multi-tenancy capabilities designed for MSSPs offering managed NAC services.
---
Final Word
Gartner recommends that enterprises should invest in NAC solutions if they are looking to enhance network visibility, enhance improve control of network facilities, or increase the control and support of a BYOD program or Internet of Things network. This market guide provides IT professionals with the insight and analytics needed to make an informed decision about which NAC solution best fits their needs. Remember, almost any company can benefit from an Network Access Control solution, but you should also be aware of the product's value to your company in relation to its cost.
---

Latest posts by Doug Atkinson
(see all)