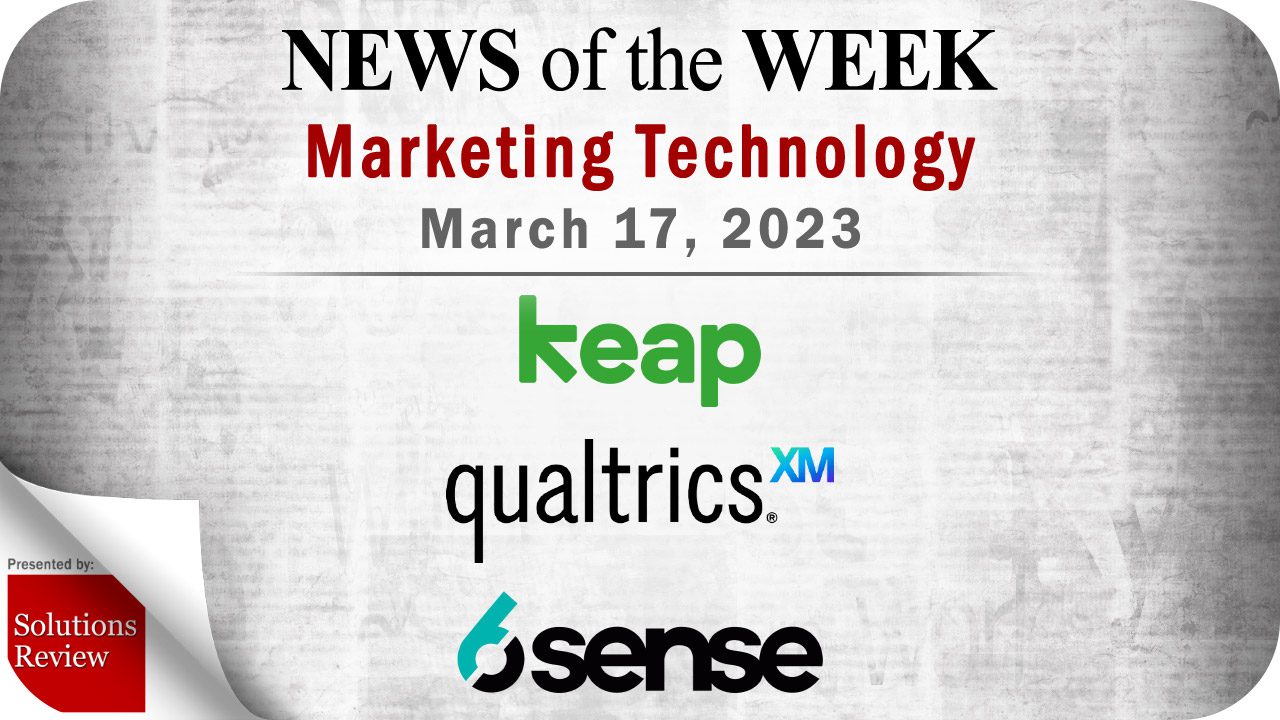 The editors at Solutions Review have curated this list of the most noteworthy MarTech news from the week of March 17th. This round-up covers announcements and updates from companies like Keap, Qualtrics, 6sense, and more.
Keeping tabs on the most relevant CRM and MarTech news can be time-consuming. As a result, our editorial team aims to summarize the week's top headlines in the marketing technology landscape. The Solutions Review editors will compile a weekly round-up of vendor product news, mergers and acquisitions, venture capital funding, talent acquisition, and other noteworthy MarTech news. With that in mind, here is some of the top MarTech news from March 17th.
Our
Free CRM Buyer's Guide
 helps you evaluate the best solution for your use case and profiles leading providers in the marketplace.
Top MarTech News From the Week of March 17th, 2023
---
Choozle, an omnichannel digital advertising platform, has announced a new Campaign Manager platform. The new platform will help brands and agencies acquire more effective media with enhancements that drive higher volume and engagement across their programmatic advertising campaigns. Additionally, users can manage their campaigns across channels (display, mobile, video, audio, Connected TV, etc.) from a single interface. These updates will also help Choozle's engineering and product teams introduce additional features and partnership integration to the platform.
---
Factoreal, a customer engagement platform, recently released Agent App, a new real-time messaging product designed to help businesses support customer acquisition and retention strategies via WhatsApp Business and the company website. The Factoreal Agent App uses chat routing capabilities to satisfy business routing needs, which helps ensure visitor chats are always directed to the appropriate agents in real-time. Users can also receive alerts when customers need to talk, look into a customer's profile, assess full-timestamp transcripts, and monitor bot and live-chat conversations.
---
Heap, a digital analytics provider, has expanded its mobile autocapture capabilities with new development frameworks for Android and iOS. The update introduces several functionalities to the Heap solution suite. These include a complete, secure dataset consistent across devices, accelerated segmentation, automated data tracking, and in-depth insights from automatically captured quantitative and qualitative data. With these new features, product builders can improve how they compare customer behaviors across platforms, build segments, and more.
---
Keap, a sales and marketing automation software provider for small businesses, has acquired The Factory. This former Keap partner helps small business owners develop marketing strategies that implement sales and marketing automation technologies. The Factory will be incorporated into Keap's existing service offerings and introduce a new coaching and service offering to help small business owners streamline the implementation of Keap's software. Additionally, Tyler Garns, founder of The Factory, will join Keap as group product manager over services.
---
Qualtrics, a leader in the experience management (XM) software category, has entered into a definitive agreement to be acquired by Silver Lake, a global technology investing company. The all-cash transaction partners with the Canada Pension Plan Investment Board (CPP Investments), valuing Qualtrics at approximately $12.5 billion. Silver Lake and its co-investors, alongside CPP Investments, will acquire 100 percent of the outstanding shares they don't own already, including the entirety of SAP's majority ownership interest. As a result, Qualtrics will become an independent, privately held company.
---
Sendbird, a global conversations platform for mobile apps, has announced details on Sendbird Notifications, a new low-code, API-based solution designed to help marketers and product managers customize and launch a persistent in-app notification experience. With this new solution, business users can improve how they create and send interactive in-app messages using the Sendbird Notification Builder toolset or directly from select marketing automation platforms like Braze and CleverTap.
---
Splio, the SaaS Individuation platform developer, has acquired Tinyclues, a specialist in the SaaS predictive marketing field that focuses on deep learning AI. The acquisition will help the two businesses equip brands with the tools to orchestrate large-scale, hyper-personalized marketing plans. Additionally, the purchase will provide Splio with 250 employees across Europe and the MEA, a portfolio of business clients across industries, and additional annual recurring revenue. It will also help Splio expand its presence as an AI-powered CRM provider in European territories.
---
6sense has launched 6sense Revenue AI, a new platform that applies AI to buyers' journeys, helping revenue teams remove guesswork, provide better customer experiences, and produce higher-quality pipelines that convert more revenue. The new platform is designed to equip B2B revenue teams with the tools needed to capture anonymous buying signals, target the correct accounts at the best time, and boost overall revenue performance with recommendations for the channels and messages with the highest conversion chance.
---
Expert Insights Section
---
Watch this space each week as the Solutions Review editors will use it to share new articles from the Expert Insights Series, Contributed Shorts videos, Expert Roundtable videos, event replays, and other curated content to help you gain a forward-thinking analysis and remain on-trend with changing industry expectations. All to meet the demand for what its editors do best: bring industry experts together to publish the web's leading insights for enterprise technology practitioners.
---
As part of Solutions Review's Expert Insights Series, Brianna Perkins, the Marketing Director at Full Circle Insights, outlines three ways companies can use social media campaigns powered by account-based marketing to drive demand. In the article, Perkins outlines how account-based marketing and social media campaigns can help brands create awareness, detect target accounts, engage those accounts, boost pipeline growth, and more.
---
As part of Solutions Review's Expert Insights Series, Alfred "Chip" Kahn IV, the founder and CEO of OvationCXM, explains how prioritizing the customer experience can help companies manage the "tech downturn." His article provides insights into how a prioritized customer experience can be the key to helping companies develop proper communication channels, navigating disruptions, and more.
---
As part of Solutions Review's Expert Insights Series, Justin Bauer, the Chief Product Officer at Amplitude, outlines what the evolution of corporate sales can (and will) look like in a product-led world. In his article, he explores PLG's impact on sales-led growth, explains why change isn't possible without product insights, and outlines the future of the sales role.
---
For consideration in future news round-ups, send your announcements to wjepma@solutionsreview.com.
---