SURVEY RESULTS FOR DATA PROFESSIONALS
Forrester Research

Delivering Governed Data For Analytics At Scale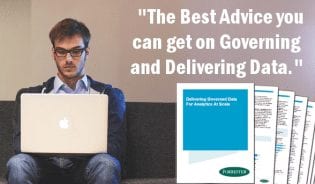 Based on survey data from 164 business and IT leaders, "Delivering Governed Data For Analytics At Scale," is a study conducted by Forrester Consulting that examines how organizations are balancing the need for analytics with the need for data governance, and how the strategic implementation of governance capabilities can be closely tied to company's analytic needs and data sources.
Download this complimentary Forrester Research to learn:
Data source and integration requirements that enable enterprise-scale analytics
Top challenges organizations face in governing and delivering data
Strategic approaches to ensure data is appropriately governed to support business needs
Recommendations on how to successfully develop a data integration and governance framework
Forrester Research is one of the most influential research and advisory firms in the world. Through proprietary research, data, custom consulting, exclusive executive peer groups, and events, the Forrester experience is about a singular purpose: to challenge the thinking of their clients and to help them lead change in their organizations.

Fill out the short form below to get this Forrester Report from Pentaho.