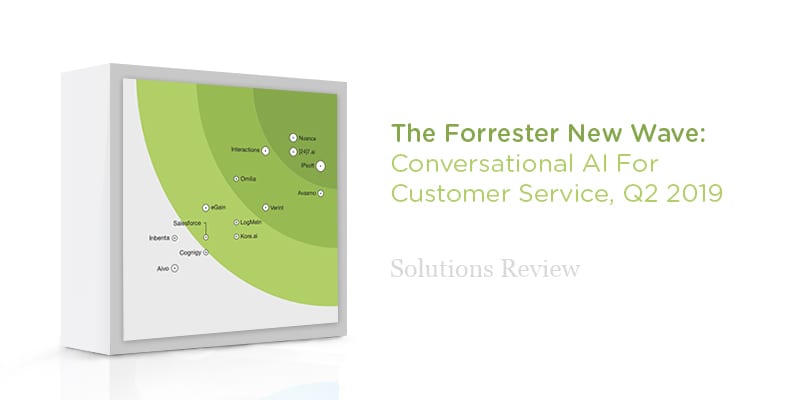 Technology advisory firm Forrester Research has released its latest Forrester New Wave for Conversational AI for Customer Service, Q2 2019. Across almost every industry, automation is being incorporated more and more within customer service operations. Conversational AI allows brands and organizations to use natural language processing and ML-based technology to support their service agents, in addition to their customers.
In their 10-criteria evaluation of conversational AI for customer service, Forrester researchers Ian Jacbos, Daniel Hong, Sarah Dawson, Sara Sjoblom, and Diane Lynch identified the 14 providers whom they consider most significant in the category: [24]7.ai, Aivo, Avaamo, Cognigy, eGain, Inbenta Technologies, Interactions, IPsoft, Kore.ai, LogMeIn, Nuance Communications, Omilia, Salesforce, Verint – then researched, analyzed, and scored them.
The New Wave report details their findings and examines how each vendor meets (or falls short of) Forrester's evaluation criteria and where vendors stand in relation to each other.
In order to help customer service leaders select the right tools, The Forrester New Wave report outlines the current state of the market for emerging technologies and businesses, and separates the top providers into leaders, strong performers, contenders, and challengers. At Solutions Review, we've read the report, available here, and pulled a few of the most important takeaways.
Vertical specialization and Human/AI blending is integral to standing out
According to Forrester's customer survey, a large portion of customers cited lack of vertical expertise as a stumbling block in solution implementation and overall efficacy. Vendors that provided industry-specific functionality, as well as flexible solutions that allows human agents and conversational AI to interact, are the vendors that stood out. AI is a rapidly evolving technology and offers a myriad of uses, but it's still incredibly difficult to replicate perfectly accurate human responses. There are times where it's necessary for a human support agent to step in, or alter the state of a customer service interaction.
Nuance, [24]7.ai, and IPsoft dominated the Leaders category
According to customer reviews and references, Nuance's AI deployments have had a notably positive effect on customer experiences. Nuance stands out from its competitors with its available tools for human customer support agents, which are able to support and work alongside the AI through disambiguation and intent detection. The AI in turn supports the human agents with conversational suggestions and context.
[24]7.ai's offers deep libraries of domain-specific intents and quick-start bots for different verticals. This vendor is a good fit for companies that want a DIY-style toolkit with additional comprehensive vendor backup and resources. IPsoft expands its robust product reach with a go-to-market approach, increasing its geographic and packaged solution reach, in addition to its vertical reach. This vendor is a good choice for organizations that need AI ready to handle complex use cases, deep business processes, or multi-intent situations.
Interactions and Avaamo on the verge between Leaders and Strong Performers
Using human-intent analysts to disambiguate poor audio-quality utterances, Interactions is leading the way in real-time accuracy by consistently integrating their human service agents with their AI. As they come from a speech background, Interactions provides value for speech-based conversational AI. They are also fleshing out their digital capabilities with a recent Digital Roots acquisition.
Avaamo is creating a unique go-to-market approach with a variety of unique partnerships with organizations including Ericsson, Intel, Tech Mahindra, And Wipro. This brand is a good choice for organizations that want simple pricing, but deep omnichannel features. It offers a pay-per-use-case model, as well as multiple deployments at enterprise scale. If both of these vendors continue innovating and expanding at their current pace, it wouldn't be surprising to eventually see them establish themselves in the Leaders category.
Latest posts by Anna Birna Turner
(see all)