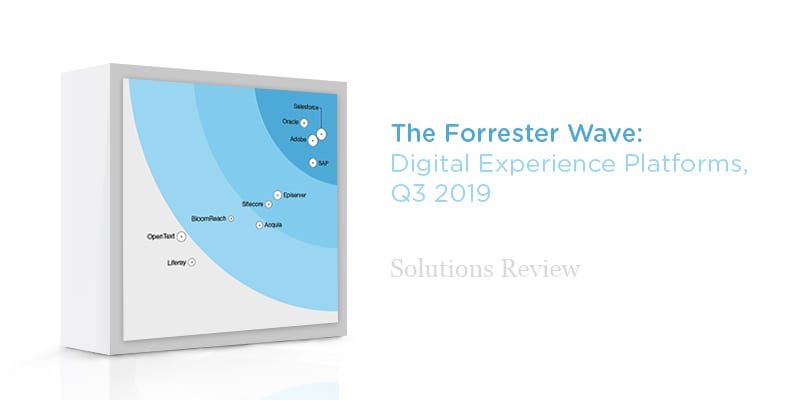 Technology advisory firm Forrester Research has released its latest Forrester Wave for Digital Experience Platforms, Q3 2019. This year's report emphasizes the importance of offering improved platform services, as well as scalable infrastructure supported by a strong partner ecosystem. Vendors that provided experience management, platform services, and infrastructure services rose to the top of this year's evaluation. 
In their 33-criterion evaluation of digital experience platforms, Forrester researchers Mark Grannan, Ted Schadler, Allen Blonde, Sara Sjoblom, Emma Huff, and Peter Harrison identified the ten providers whom they consider most significant in the category: Acquia, Adobe, BloomReach, Episerver, Liferay, OpenText, Oracle, Salesforce, SAP, and Sitecore — then researched, analyzed, and scored them.
The Wave Report details their findings and examines how each vendor meets (or falls short of) Forrester's evaluation criteria and where vendors stand in relation to each other.
In order to help digital experience leaders select the right tools, The Forrester Wave report outlines the current state of the market for top technologies and businesses, and separates the top providers into leaders, strong performers, contenders, and challengers. At Solutions Review, we've read the report, available here, and pulled a few of the most important takeaways.
Salesforce, Oracle, Adobe, and SAP dominate the Leaders category
Salesforce has established its position as a Leader by tackling commerce and B2B2C industries; it has acquired Demandware for B2C and CloudCraze for B2B scenarios. Salesforce has also continued to improve its enteprise integration capabilities by acquiring MuleSoft for API management. Oracle has continued to acquire different technology and software, and now has products in almost every DX category.Oracle CX Cloud has also focused on rebuilding legacy applications in the cloud, including commerce and content offerings.
Adobe has provided premium software solutions for B2C marketers in the past, and continues to acquire additional capabilities. Its recent purchase of Magneto for commerce and Marketo for B2B marketing shows its drive to expand and provide additional DXP features. SAP's recently formed C/4HANA platform combines commerce, customer data, marketing, sales, and service clouds. Although this platform is generally regarded as a CRM, its multi-part construction and self-service experience brings it together as an enterprise suite.
Episerver and Sitecore stand out as Strong Performers
Episerver has honed in on Microsoft Azure, the bulk of its new customers running on this globally expanding cloud. This vendor is focusing on the building blocks for experience management, platform services, infrastructure build on Azure, as well as robust AI capability. Episerver does well in B2C commerce, search, and web experience management. Sitecore is embracing web content management systems with marketing and customer data capabilities, as well as a standalone B2C eCommerce solution. With their 2018 acquisition of Stylelabs, Sitecore has firmly established itself in the DX landscape and provided a draw to marketers. Sitecore stands out with its rich media and marketing content and web experience management.
Contenders and Challengers
Acquia has expanded its portfolio by adding DAM and Journey solutions via OEM relationships in 2018. It has also revamped Cloud Site Factory by including headless/decoupled deployments. Acquia's strengths lie in its content hub, web experience management, development tooling, and platform operations. BloomReach is expanding its eCommerce partnerships to drive the expansion of omnichannel scenarios for brands and manufacturers. Its strengths lie in web experience management, search, and platform operations.
OpenText focuses on content and formal communication, but has made significant progress in simplifying its content-centric product lineup and moving it to the cloud. OpenText does well in marketing, rich media content, and content hub. Liferay has transformed into a headless development and runtime platform that includes lightweight CMS and web experience management features. Liferay's strengths lie in platform support, developer tools, and platform operations.
Latest posts by Anna Birna Turner
(see all)