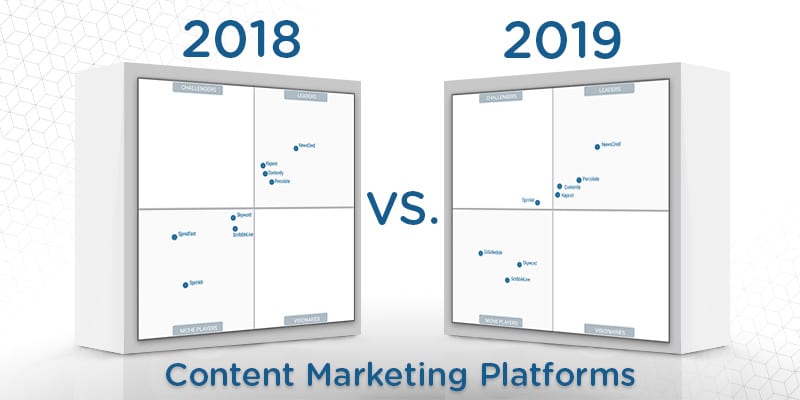 The editors at Solutions Review highlight what's changed in the newest iteration of Gartner's  Magic Quadrant for Content Marketing Platforms and provide an analysis of the new report.
Analyst house Gartner, Inc. recently released the 2019 version of its Magic Quadrant for Content Marketing Platforms. Most content marketing platforms (CMPs) include capabilities to support editorial planning, collaboration, workflow, and tools and services to publish content of all types. Other common features include analytics and insights to measure content performance and integrations to connect to existing marketing technologies such as marketing automation.
The current market's most urgent need is tools that help develop, produce, and deliver branded content. Consumers continue to demand relevant and personalized content across various channels, but Gartner says only 5.9 percent of marketing budgets went to content creation in 2018. To fully address customer needs, content creation needs to be viewed as a crucial aspect of marketing strategies. Modern CMPs must handle enormous volumes of customer data while mitigating the number of marketing resources spent on the overall marketing pipeline.
The vendors that currently stand out focus on boosting scale, relevance, and return on content marketing investments. This is done through providing ideation, editorial planning, content sourcing, and analysis. The content marketing platforms space is unique in that a large section of its vendors have a wide variety of legacy solutions; this lends itself to solution diversity and specialization.
What's Changed: 2019 Gartner Magic Quadrant for Content Marketing Platforms
---
In this Magic Quadrant, Gartner evaluates the strengths and weaknesses of 8 providers that it considers most significant in the marketplace and provides readers with a graph (the Magic Quadrant) plotting the vendors based on their ability to execute and their completeness of vision. The graph is divided into four quadrants: niche players, challengers, visionaries, and leaders. At Solutions Review, we read the report, available here, and pulled out the key takeaways.
Gartner adjusts its evaluation and inclusion criteria for Magic Quadrants as software markets evolve. As a result, Spredfast has been dropped for no longer meeting Gartner's inclusion thresholds, and CoSchedule has been added.

NewsCred maintains its position at the top of the Leaders category, focusing on data-driven planning and performance analytics. These capabilities include the Idea Lab module designed for content planning that integrates multiple data sources. In addition to providing support for complex use cases and the needs of highly distributed organizations, NewsCred is an expansive and well-integrated platform that allows for intelligent content planning and workflow management. Percolate has gained some vertical movement and passed some of its other competitors. Large organizations have praised this vendor for its range of implementation support, operational efficiencies, and process agility. Its base flexibility allows for multiple use configurations, including technical manual updates, product launch materials, internal communications, and tradeshow events.
Contently and Kapost are hovering close to the Challenger and Visionary borders, vying for similar positions. Kapost's strengths lie in editorial planning, workflow, task management, and advanced analytics. Their editorial planning tool, Canvas, allows users to plan content strategies and assign them budget requirements, journey maps, and personas. Contently stands out with its highly praised user experience. Its calendar feature supports templates and customization that allows users to tag, filter, and color-code based on brand, business units, and geographies. Contently also features a comprehensive customer success team, including program managers, talent management, editorial services, and strategy services.
Sprinklr has made impressive strides, climbing out of the Niche Players category and finding its position as a Challenger. This vendor provides a variety of services, with a focus on data-informed content planning. Sprinklr integrates data from social media, messaging, and other sources to provide a foundation for content planning. Its workflow and rule engine aligns well with complex clients' needs and supports the platform across many organizations. Sprinklr has also been cited positively for its responsiveness and engagement.
CoSchedule makes its entrance into the Magic Quadrant as a Niche Player. Cited positively for its easy-to-use interfaces and intuitive features, CoSchedule offers robust project management, customizable workflows, and distributed content marketing functionality. Skyword maintains its quadrant position with its TrackMaven analytics tool. It provides advanced content analytics with customized indexes and benchmarks and real-time alerts on content opportunities. ScribbleLive has invested in AI-powered technology, with its TrendHub product powered in part by IBM Watson. TrendHub provides content marketers with predictive trends and content intelligence. ScribbleLive has also been cited as an affordable solution with a lower price point than other vendors, making it a good choice for midmarket organizations.
Several vendors were identified as notable mentions, as they demonstrated many of the qualities that Gartner associates with modern content marketing platforms. Although they didn't meet every inclusion criteria, marketplace volatility and vendor growth rates indicated they were worth watching.
Curata utilizes artificial intelligence and natural-language-processing technology to enable its customers to scan, select, and publish content to various channels. It is a good fit for small and midmarket organizations but has been making progress with several enterprise clients over the past couple of years. DivvyHQ focuses on the strategy, ideation, planning, and collaboration aspects of content marketing. Its low price point makes it a good choice for small organizations, and the product focuses on simple, easy-to-use interfaces. Oracle Content Marketing is offered as a stand-alone product, set apart from the rest of Oracle's enterprise software. It has improved its sales enablement content access functionalities and improved the user interface and calendar application.
---
Latest posts by Anna Birna Turner
(see all)