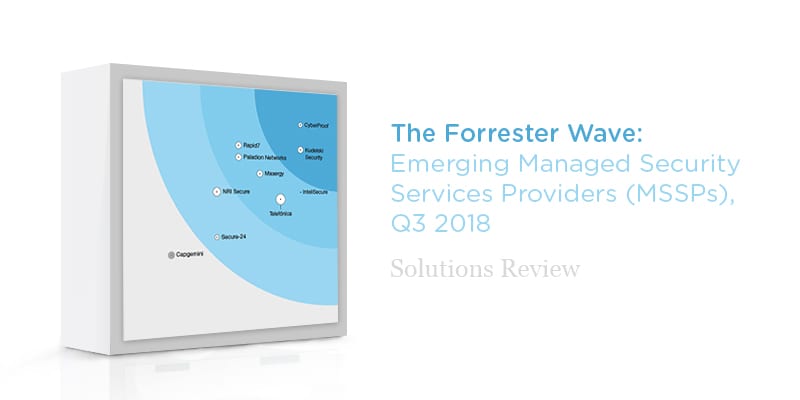 Disclaimer: The opinions described in this article belong to the researchers and editors of The Forrester Wave: Emerging MSSPs Q3 2018 report. Solutions Review does not expressly condone any individual solution or solution provider.  
Cambridge, MA-based analyst house Forrester Research has recently released the latest iteration of its flagship Wave Report; the report's full title is "The Forrester Wave: Emerging Managed Security Services Providers (MSSPs), Q3 2018."
In their 24-criterion evaluation of Emerging MSSPs, researchers Jeff Pollard, Claire O'Malley, Christopher McClean, Elsa Pikulik, and Peggy Dostie identify what they consider the 10 most significant providers.  
The 10 solutions providers listed in the Forrester Wave Report for Emerging MSSPs Q3 2018 are Capgemini, CyberProof, InteliSecure, Kudelski Security, Masergy, NRI Secure, Paladion Networks, Rapid7, Secure-24, and Telefónica.    
The Wave Report details their findings and examines how each vendor meets (or falls short of) Forrester's evaluation criteria and where vendors stand in relation to each other. The Wave Report also outlines the current state of the market and separates the top providers into Leaders, Strong Performers, Contenders, and Challengers.
The editors of Solutions Review read the report on Emerging MSSPs. We pulled a few of the most important takeaways. They are:
Few Leaders Among Emerging MSSPs
The Forrester Wave: Emerging Managed Security Services Providers (MSSPs), Q3 2018 only names two Leaders among the ten selected solution providers: CyberProof and Kudelski Security.
Meanwhile, InteliSecure, Rapid7, Masergy, Telefónica, and Paladion Networks are all named Strong Performers. Capgemini stands as the only Challenger while NRI Secure and Secure-24 are both labeled Contenders.
Of the Leaders, CyberProof receives positive attention for its SeeMo bot supplements which automate investigation workflows. Kudelski Security is lauded for its enhanced usability, reporting capabilities, and a well-designed portal.
AI and UI Dominate Discussion of Emerging MSSPs
The three key capabilities Forrester identifies in their Wave Report are machine learning, automation, and user interface (UI). Customer expectations for security dashboards exceed the capabilities of many solutions, making an excellent UI a stand-out feature. Machine learning and automation streamline the threat detection and response processes, thereby becoming more attractive to enterprises.  
Emerging MSSPs must Meet Customer Demands
Of which security maturity and the ability to provide 24/7 security coverage are the two most prominent. MSSPs must be able to address enterprise cybersecurity challenges on a mass scale.  
You can download the full report here.  
Other Resources: 
The 10 Coolest SIEM and Security Analytics CEO Leaders
5 Tips for Setting Up a Security Operations Center (SOC)
Get Your Employees to Embrace SIEM Best Practices!
4 Tips to Make Data Breach Detection Easier For Your Enterprise
Enterprises: Don't Become Complacent in Your Cybersecurity!
How to Make Your SIEM Solution Deployment Easier for Your Enterprise
Comparing the Top SIEM Vendors — Solutions Review
How UEBA Can Prevent Insider Threats in your Enterprise
SIEM vs Security Analytics: What's the Difference?
Should Risk Analytics Bridge the Cybersecurity Talent Gap?
What's Changed? The Gartner 2017 Security Information and Event Management (SIEM) Magic Quadrant
The 25 Best Security Analytics and SIEM Platforms for 2018

Latest posts by Ben Canner
(see all)