DCIG Top 5 report: All-in-one DRaaS solution profile
From Druva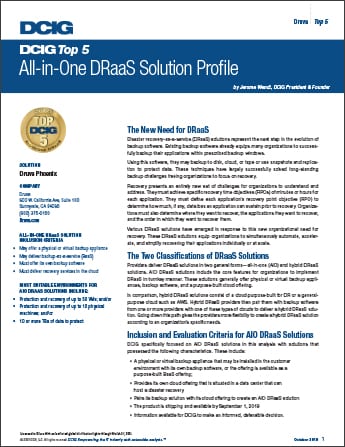 Disaster recovery-as-a-service (DRaaS) represents the next step in the evolution of backup software. Backup solutions already equip many organizations to successfully protect their on premises, virtualized or cloud workloads within prescribed backup windows. Recovery represents an entirely new set of challenges for companies to understand and address.
Learn about one of the DRaaS solutions featured in DCIG's Top 5 report – Druva Phoenix.
Find out how cloud-based disaster recovery equips organizations to simultaneously automate, accelerate, and simplify recovery of their workloads individually or at scale.
Fill out the following to download this resource from Druva