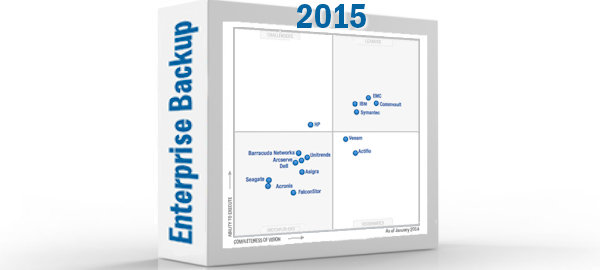 Gartner recently unveiled one of their patented Magic Quadrants, this time for Enterprise Backup Software and Integrated Appliances. Gartner says: "Enterprise backup is among the oldest, most-performed tasks for infrastructure and operations professionals. Gartner provides analysis and evaluation of the leading providers that offer a range of traditional to innovative recovery capabilities."
The study, which outlines 15 vendors, provides a comprehensive industry overview, highlighting where solutions in have been, where they're headed, and what exactly each one offers. Gartner speaks to each solution's strengths and weaknesses in an attempt to assist solution-seekers with their purchasing decisions. The included companies are grouped into four quadrants based on their ability to execute and on how complete their vision is. The names of each segment are as follows: Niche Players, Visionaries, Challengers, and Leaders.
Unsurprisingly, Gartner found that organizations are increasingly selecting backup solutions from providers that offer expanded protection capabilities and techniques in addition to the traditional backup options. Data-driven organizations have begun to understand just how important it is that they backup their vital business data in a variety of ways as a hedge against data loss, which has been known to cripple businesses.
This report narrows the list of vendors down to just the ones that have a strong global presence and cater to the upper-end mid-market (500-999 employees) and large-enterprise (1,000 or more employees) environments. The report also excludes backup solutions that exist to work only with homogeneous environments, such as native tools developed by Microsoft or VMware for their own platforms.
The emphasis of this Magic Quadrant report is on the capability of the backup and recovery solution. However, for the vendors who meet the criteria for inclusion, which is weighted heavily to the side of the backup application, their software and branded hardware portfolio, which may included an integrated backup appliance, will be evaluated. Gartner adds: "Note that a Magic Quadrant is not product-specific, but rather represents the vendor's overall position in the enterprise backup/recovery software and integrated appliance market and individual products in a vendor's recovery portfolio can vary in terms of capabilities, support, etc. This means that vendors that do not possess a heterogeneous backup application, do not have significant worldwide presence and only deliver disk-based target appliances are not eligible for inclusion in this Magic Quadrant."
All of the companies included in Gartner's newest Magic Quadrant can also be found in our Backup and Disaster Recovery solutions directory, so we can verify that the folks at Gartner did their homework.
Compared to some of Gartner's other Magic Quadrant reports, the field is relatively thin in this one. The players are really concentrated in the Niche and Leaders brackets, with only three of them being stationed in the Challengers and Visionaries quadrants. Outside of HP, who currently resides in the Challengers quadrant, and Veeam, a Visionary, none of the companies are particularly close to changing positions, either.
The Leaders quadrant is headlined by EMC, a backup company that has been in acquisition mode in recent years, and Commvault, a solution that meets a wide variety of backup needs. EMC recently introduced a new backup product called ProtectPoint, which bypasses the traditional backup server bottleneck by allowing EMC's primary storage systems to send backup data directly to Data Domain. Commvault offers comprehensive backup, archiving, reporting, analytics, and search capabilities, and their near-term vision for furthering data management and opening up its unified repository for broader user cases should "resonate with market interests." EMC and Commvault are being followed by IT giants IBM and Symantec in that quadrant, both of which need no introduction.
HP, the lone ranger in the Challengers quadrant, offers a backup service portfolio that includes three different solutions: Data Protector for data center server backup, HP LiveVault online backup services, and HP Connected Backup and Connected MX endpoint services.
Veeam, one of only two vendors that makes up the Visionaries quadrant, offers a reliable backup and replication solution that is rich in features but low in complexity, and is one of the most cost-efficient offerings on the market. The other Visionary, Actifio, is a data protection solution that consolidates traditional data protection copy silos, and enables fast data capture and backup via a variety of methods. Actifio is also noted as having excellent customer service.
The Niche Players Quadrant is the most crowded, with familiar names like Dell and Seagate. Three companies that are within striking distance of moving into a more desirable location on the diagram are Barracuda Networks, Unitrends, and Arcserve. Barracuda is a complete end-to-end backup solution of integrated appliances and a vendor-owned cloud, and has been rounding out its support for specific backup features, but really prides itself on ease of use. Unitrends offers the complete package: hybrid cloud backup, DRaaS via integrated appliances or software-only offerings, far-reaching OS, application, and hypervisor support. Arcserve offers a range of data protection capabilities for Windows applications while supporting cloud targets and physical tape.
Asigra, Acronis, and FalconStor round out the Niche Players column. Asigra is a well-known and stable comprehensive backup software platform, available for physical and virtual environments. Acronis is a backup solution for small and midsize businesses, offering cloud-enabled central administration capabilities for distributed locations. Their strengths include a flexible licensing model, easy-to-use interface, and complete portability of backup images. FalconStor, a company in transition according to Gartner, has recently stabilized itself and has delivered product proof points on its vision. Users of FalconStor's solution speak of fast recovery via mountable snapshots for applications and file systems.
Outside of a packed Niche Players quadrant, the diagram does look a little sparse. However, backup software, especially solutions tailored for organizations in the enterprise will only ascend in popularity in the years ahead. We should see significant headway in enterprise backup adoption by the time Gartner releases the 2016 version of this report.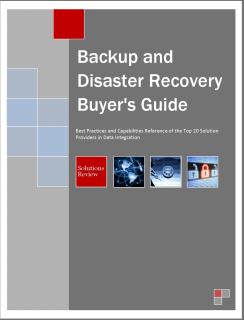 Get a free Backup and Disaster Recovery Buyers Guide, which provides an industry overview, profiles of the top solutions providers, and the questions you need to ask vendors before selecting a solution.