What's Changed: 2019 Gartner Magic Quadrant for Mobile Marketing Platforms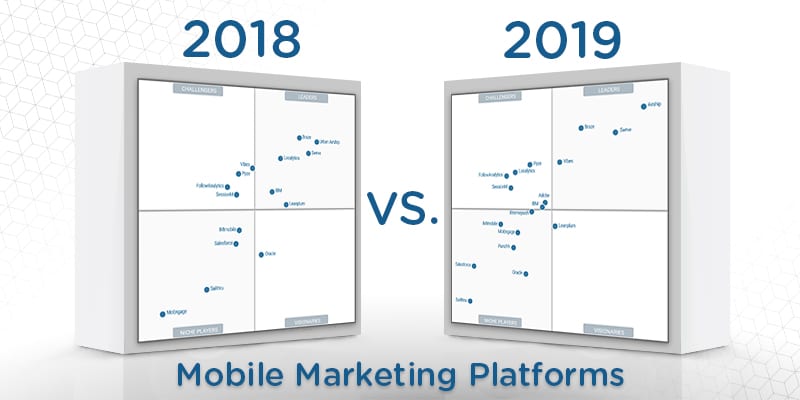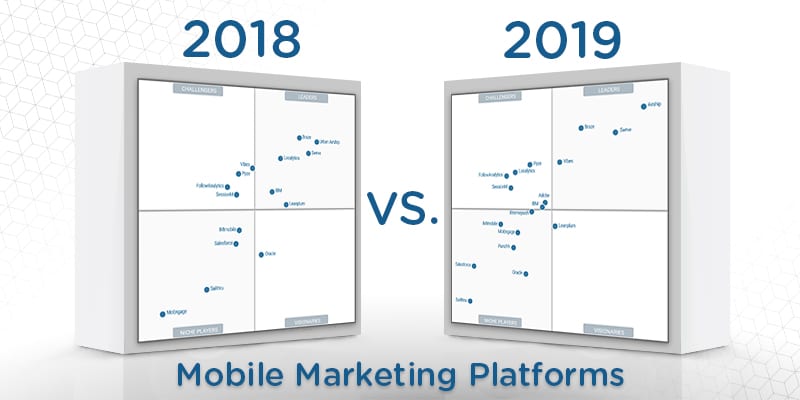 The editors at Solutions Review highlight what's changed since the last iteration of the Gartner Magic Quadrant for Mobile Marketing Platforms and provide an analysis of the new report.
Analyst house Gartner, Inc. recently released the 2019 version of its Magic Quadrant for Mobile Marketing Platforms. Mobile marketing platforms are defined as platforms that help marketers manage and activate marketing campaigns that directly market to consumers on their mobile devices. This includes mobile websites, mobile applications, messaging, push notifications, location-triggered interactions, and mobile wallet cards. This year's report revealed that 68% of CMOs expect to increase their investment in mobile marketing and that mature multichannel marketers spend more on mobile marketing than their less mature peers.
Today's mobile marketing platforms are split into two different categories. The first is mobile-centric marketing organizations. These utilize unique mobile features such as cameras, GPS, radios, and microphones, to engage their audience. The second category is mobile-extender marketing organizations. These extend and adapt existing customers and leads from a desktop environment and provide them with an additional mobile environment.
This year's Magic Quadrant provided readers with three key takeaways. The first is that leading vendors make data core to their business value but differ depending on whether they offer a purpose-built mobile platform or multichannel marketing hub. The second is that mobile marketing platforms must differentiate between data analytics and service. The third is that it's important to keep your selection future-focused when choosing a mobile marketing platform. Ensure that your selected provider is considering how rapidly technology changes and evolves and that your needs will be met not only today but also years from now.
What's Changed: 2019 Gartner Magic Quadrant for Mobile Marketing Platforms
---
In this Magic Quadrant, Gartner evaluates the strengths and weaknesses of 18 providers that it considers most significant in the marketplace and provides readers with a graph (the Magic Quadrant) plotting the vendors based on their ability to execute and their completeness of vision. The graph is divided into four quadrants: niche players, challengers, visionaries, and leaders. At Solutions Review, we've read the report, available here, and pulled out the key takeaways.
Gartner adjusts its evaluation and inclusion criteria for Magic Quadrants as markets evolve. As a result, Adobe, Punchh, and Xtremepush have been added to this year's report.
Airship (formerly Urban Airship) tops this year's Leaders quadrant. Since last year's report, this vendor has developed AI and ML capabilities to augment its built-in analytics. It has also expanded its geographic reach and customer base by acquiring Accengage, a Paris-based mobile marketing platform. Swrve maintains its position in the quadrant with customers citing its enhanced customer engagement and retention capabilities as a key factor in their platform usage. The vendor has also added cross-channel and cross-device identity aliasing.
Braze's platform can process data from integration points as a stream of events, providing an up-to-the-moment view of customers. This vendor's service and support have been highly praised, and the platform is straightforward to use. Vibes is new to this year's Leaders quadrant, making the jump from Challengers. This vendor has deep roots in mobile messaging and enables customers to utilize SMS, MMS, push notifications, RCS, and Facebook Messenger.
Pyze is at the top of this year's Challengers quadrant. Its cross-platform analytics capabilities are robust and allow users to track customers across multiple channels at individual and segment levels. Marketers that want to automate insights and campaigns based on usage and media consumption should also consider Pyze. Localytics' platform is great as a stand-alone solution or as a mobile-oriented extension of MMHs. The solution's out-of-the-box functionality was rated highly by clients, citing fast results after installation.
FollowAnalytics maintains its position as a Challenger with its platform focusing on serving enterprise marketing teams already using robust marketing platforms, such as MMHs. The vendor offers dynamic campaigns that analyze a user's specific in-app or on-site actions to trigger offers. SessionM continues to extend its mobile capabilities for marketers invested in loyalty programs. Also, since 2018, they've added SessionM Insights, allowing marketers to track various KPIs closely.
Adobe is new to this year's Magic Quadrant, establishing itself as a Challenger that closely borders the Leaders quadrant. With Adobe's established success across a range of vertical industries, it's not surprising that this solution offers a wide variety of capabilities. IBM's Watson Marketing mobile platform is well suited for marketing teams already invested in other Watson Marketing products. They have also improved their in-app message handling, particularly for creating in-app content.
Leanplum is the sole vendor in this year's Visionaries quadrant. This solution comes as a single product, which greatly simplifies decision-making for marketers. There are various solution tiers that you can choose from, and customers have highly rated the evaluation and contract negotiation experience with Leanplum. The vendor has also expanded support to new channels, such as voice-enabled speakers and OTT boxes.
Xtremepush is new to this year's Magic Quadrant, showing positive results with a high-ranking position in the Niche Player's quadrant, bordering the Challenger's quadrant. It wouldn't be surprising to see this vendor change quadrants over the next year. This solution highlights the real-time engagement and message delivery and supports major mobile messaging capabilities and real-time analytics. IMImobile maintains its quadrant position and has added a large-enterprise campaign-approval workflow tool in late 2018. This vendor has focused on simplifying the overall user experience, particularly workflows around campaign creation.
MoEngage has gained both vertical and horizontal movement within the Niche Players quadrant. It has made significant additions to its product suite by revamping and expanding many of its analytics capabilities. IT also maintains a rich set of APIs that integrate with a wide variety of martech components. Punchh, new to this year's Magic Quadrant, is starting strong with a platform designed primarily for clients with a physical retail presence. Its origins as a loyalty platform allow marketers to leverage out-of-the-box functionality to craft programs that increase CLV.
Salesforce has continued to expand its Einstein AI service capabilities, bringing automated segmentation and enhanced journey analytics to its platform. Oracle has upgraded its self-service capabilities for managing SMS campaigns with its new SMS Public Aggregator Network. This provides marketers with the ability to select SMS aggregators based on region, price, or routing type. Sailthru has redesigned its user profiles, granting mobile marketers access to demographic, behavioral, interest, and predictive data.