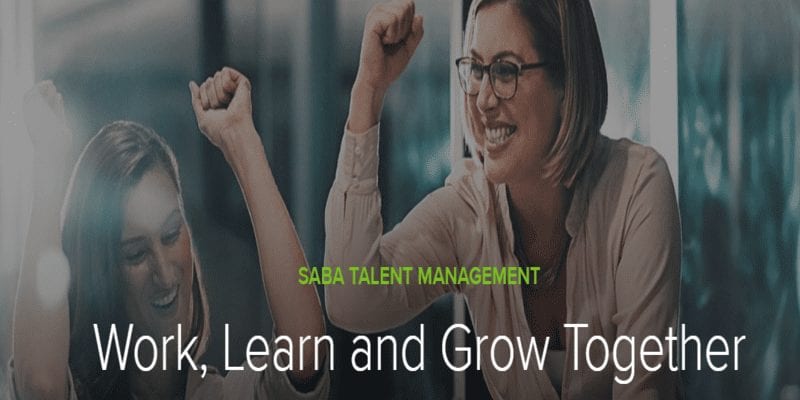 Saba Software, a leading provider of people-centric talent management software, announced new innovations to their Saba Cloud Platform that redefines learning experiences for people and teams, and strengthens the connection between employee development and performance.
These new capabilities include a personalized learning and content portal, curated, sharable learning collections, and real-time performance coaching, feedback, plus check-ins.
As of recently, Saba Cloud now includes a visual and personalized learning and development portal that delivers an interactive, "just in time, just for me" experience that today's workforce can expect. The portal is described as "a graphic and centralized hub for learners to discover relevant and trending topics, as well as personalized content and learning geared towards specific areas of interest, skill development, or career path."
Employees, managers, and HR professionals can now use Saba Collections to curate collections of informal, social and formal learning content based on workforce interests. Simply by bookmarking content within the system or from the web, anyone across the organization can curate easily readable and sharable learning paths.
"What impressed us about the new collections feature was that, much like curating a music playlist, employees can personalize their learning in real-time and extend curation beyond our L&D team," said Simon Lively, Learning Technology Specialist with Mattress Firm. "We can keep content fresh and relevant by leveraging user contributions and giving them the ability to share and rate collections. The fact that this comes as part of our existing learning platform with Saba is a powerful extension of our investment."
The real-time performance add-ons to Saba Cloud now delivers a simple, real-time meeting format that supports ongoing performance conversations in an organized and easily trackable way by leveraging the best-in-class approach from Saba's Halogen Performance products.
Research shows that when managers hold regular one-on-one meetings with employees, they're almost three times more likely to be engaged at work. Saba Cloud's "performance workboard" approach allows for consistent, ongoing and connected coaching and feedback experiences between employees and managers in order to achieve these statistics.
This is where the new check-in innovations come in handy as well, as they provide an integrated agenda for one-on-one meetings to occur, including all performance milestones, and connectivity to learning that enables employees to improve skills and meet their performance goals.
"We know that increased performance outcomes are tied to regular, frequent coaching and feedback. We also know that to increase adoption, performance check-ins and one-on-ones need to be easy and valuable for both managers and employees," said Helen Rossiter, Senior Talent Development Specialist at West Marine. "Saba check-ins coaches managers to connect frequently with their team members. Managers and employees can create and edit agendas, key goals and development milestones can be updated in real time or during meetings, and historical tracking ensures that nothing gets lost or forgotten."
Read the full press release.
---
Looking for more? Download our Talent Management Buyer's Guide for free to compare the top 24 Talent Management and HR Tech vendors head to head (you will find these three major players). The guide also includes 4 key capabilities to consider while selecting a new solution and 10 questions to ask yourself and the vendor before purchasing.
And don't forget to follow us on Twitter, LinkedIn and Facebook for all the latest in Work Tech!

Latest posts by Elizabeth Quirk
(see all)