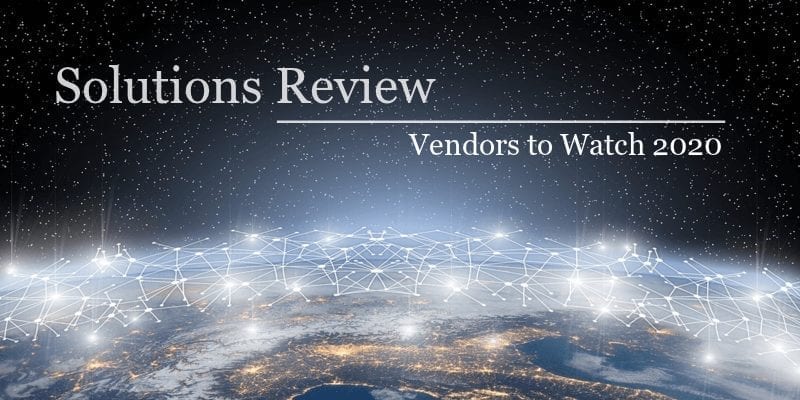 Solutions Review's Customer Relationship Management (CRM) Vendors to Watch is an annual listing of solution providers we believe are worth monitoring. Companies are commonly included if they demonstrate a product roadmap aligning with our meta-analysis of the marketplace. Other criteria include recent and significant funding, talent acquisition, a disruptive or innovative new technology or product, or inclusion in a major analyst publication.
Who are the top CRM Vendors to Watch in 2020?
As we enter the new decade, we're starting to see a demand for more specialized products. There's no one-size-fits-all solution, and every business out there has its own unique needs to address. Sales teams continue to require powerful tools to manage their sales pipelines, but today's CRM platforms offer so much more. Marketing automation, social media management, email, customer service, and much more. As specialization continues to be important, vendors are experimenting with new technology and figuring out how to take what we know as CRM to the next level.
CRM platforms have been around for several decades at this point. As technology evolves and SaaS becomes increasingly popular, it's important to look to the future of CRM. What companies stand out? Which vendors are taking their products to the next level and driving the evolution of the market? Here are four CRM Vendors to Watch in 2020.
Cere Network
Cere Network raised over $3 million in seed funding in August of 2019. Current CRM solutions suffer from having access to a limited pool of data, hampering companies' ability to engage with customers in a meaningful way. Cere Network hopes to utilize blockchain technology to overcome these limitations while simultaneously focusing on customer data privacy. Its investors include Binance Labs, Alphabit, NGC, LD Capital, and more. In November, Cere Network announced its collaboration with Elrond Network in order to provide their customers with improved microservices.
Freshworks
Over 15,000 customers use Freshsales, taking advantage of its sales pipeline management and built-in phone and email capabilities. This CRM solution provides access for an unlimited amount of users, unlimited contact storage, and unlimited support from Freshales' service team. Its core features include built-in phone and email, lead and contact management, and visual sales pipeline management. In November of 2019, Freshworks secured a Series H round of funding for $150 million lead by investors including Sequoia Capital, CapitalG, and Accel.
HubSpot
HubSpot is a free CRM solution with sales and lead nurturing capabilities. Functionalities include contact management and insights, email tracking and templates, and reporting dashboards. Hubspot also offers several customer service features through its Service Hub. including FAQ's, customer feedback tools, conversational bots, and goal-oriented metrics. In 2019, HubSpot continued to innovate and expand on its offerings by releasing new LinkedIn lead generation capabilities and email marketing features. It also stood out as the only Challenger in 2019's Gartner Magic Quadrant for CRM Lead Management.
LionOBytes
LionOBytes had a strong second half of 2019, starting off its September by winning two Gold awards: one in the 2019 CEO World Awards for Start Up of the Year, Technology Services, and another in the 14th Annual 2019 IT World Awards for Start Up of the Year, Information Technology Software. In addition to creating new mobile features for its CRM, it also added several integrations for popular platforms including Constant Contact, Mailchimp, QuickBooks, and Microsoft Office 365.
---