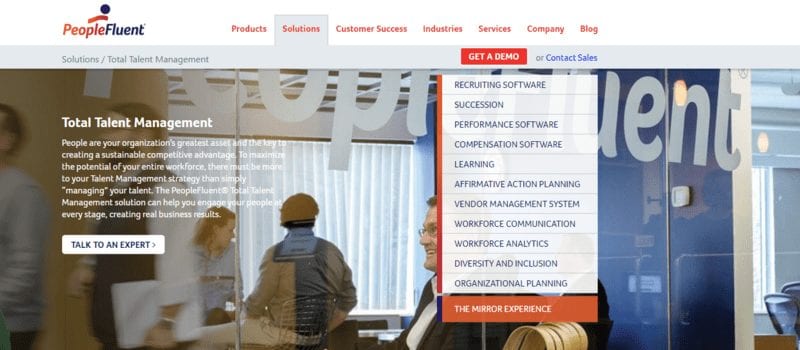 PeopleFluent, a leading independent provider of integrated recruiting, talent management and compensation planning solutions, announced on Monday that it concluded Q1 with a 46 percent increase in new recurring bookings revenue. Led by a three times increase in Year-Over-Year (YOY) bookings for the company's Talent Acquistion and Talent Management solutions, PeopleFluent also experienced strong growth across its entire portfolio, including 122 percent increase in YOY bookings for its Vendor Management System and associated services.
"Building off the strong momentum achieved in Q4 2016, we continue to see exceptional growth across our product lines as well as in our key industry verticals," said Charles S. Jones, Chairman and CEO of PeopleFluent. "We see this as a clear validation of PeopleFluent's strategic focus and direction: to deliver innovative talent acquisition and talent management solutions, designed from the ground-up to address the unique needs of large enterprise employers, all supported by a world-class team of customer care professionals with deep domain expertise."
According to a press release, one of the hallmarks of PeopleFluent's solution portfolio is its ability to address the complex workflows and processes, as well as diverse contractor and employee roles – which are typically associated with large healthcare, manufacturing and financial service organizations throughout the globe. Market reception for these capabilities was exceptionally strong in Q1, reflected by 104 percent YOY growth in financial services bookings, 565 percent YOY growth in manufacturing sector bookings, and a 1,000+ percent YOY growth in healthcare sector bookings.
Notable wins for PeopleFluent's clients in each of these sectors for Q1 2017 include:
Healthcare 
A global company specializing in the production of medical supplies.
A nonprofit parent company of an integrated system of hospitals, consistently recognized for providing quality care to 1.3 million people.
Financial Services
A national financial holding company employing more than 5,000 people with operations in 450 locations across 43 states.
Nationally diversified financial services company providing banking, mortgages, and investing services.
International banking and financial services provider with 88,000 employees and 23 million customers across the globe.
Manufacturing
A global leader in the design, engineering, production, support and sustainment of tracked and wheeled military vehicles.
A leading manufacturer of heavy-duty industrial electric power tools.

Latest posts by Elizabeth Quirk
(see all)