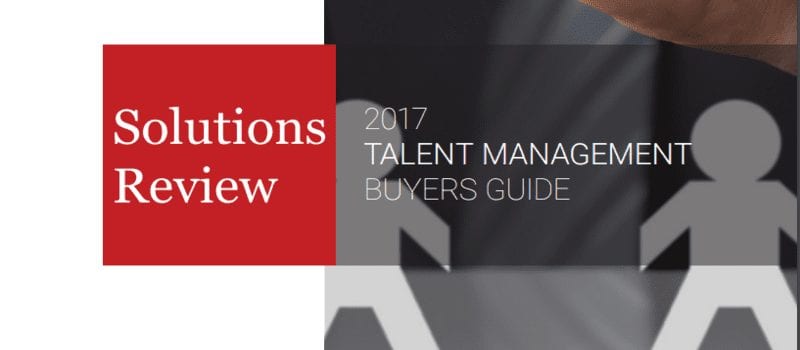 Recently, enterprise technology news and best practices network, Solutions Review, has announced that the latest addition to its library of enterprise technology buyer's resources, the 2017 Talent Management Buyer's Guide, now available and ready for download.
The guide provides valuable insights into the current state of the talent management software landscape and the solutions that are helping organizations and HR professionals manage business strategies.
For those researching talent management software as a part of an active purchasing initiative, or thinking about implementing a talent management solution, the 2017 Talent Management Buyer's Guide offers 5 excellent questions to ask both yourself and prospective solution providers before a purchase, recommended implementation tips, as well as detailed profiles of the top 24 talent management products, as selected by Solutions Review.
Each profile provides company and solution backgrounds, highlights of solution key features and flagship tools, plus Solutions Review's take on each solution.
The top 24 Talent Management solution providers listed in the 2017 Buyer's Guide Report include: ADP, ApplicantStack, BirdDogHR, Cornerstone OnDemand, Deltek, HRSoft, Halogen Software, Haufe, HealthcareSource, IBM, Lumesse, Meta4, NetDimensions, Oracle, PeopleAdmin, PeopleFluent, SABA, SAP, SilkRoad, SumTotal Systems, Talentsoft, Technomedia, Ultimate Software and Workday.
"HR plays a huge role in organizations, and having a solution that streamlines and help to manage their day-to-day business and workforce strategies not only makes the HR department happier and more efficient, but helps the organization to grow as a whole," says Liz Quirk, Solutions Review Talent Management, ERP and BPM software Editor.
Talent Management, Enterprise Resource Planning (ERP) and Business Process Management (BPM) are all a part of Solutions Review's 'worktech' site, where you can find all the latest in work technology news and best practices. Their newest site, BPM, launched a couple weeks ago and is a great resource for business owners and CEO's looking to streamline their business processes.
"With the 2017 Talent Management Buyer's Guide report, Solutions Review gives you a brief and comprehensive peek of top solutions so you can create your own shortlist of solutions that you already know have all the features you're looking for. If you're in the beginning process of buying your first talent management solution, or if you're looking for something different than what you already have, we hope this is the perfect resource to get you started on the decision-making process," says Quirk.
About Solutions Review
Solutions Review is a collection of online news sites bringing the latest technology news, opinions, social media, best practices and industry events together in one place for our readers. With a strong focus in the Enterprise Mobility, Big Data & Analysis, Identity Management, the Cloud, Enterprise Resource Planning, Data and Cyber Security, Solutions Review is managed by a team of content experts and features original content along with a thoughtful aggregation of industry best practices and solution news. Solutions Review allows seekers of technology solutions to make thoughtful and informed decisions.

Latest posts by Elizabeth Quirk
(see all)