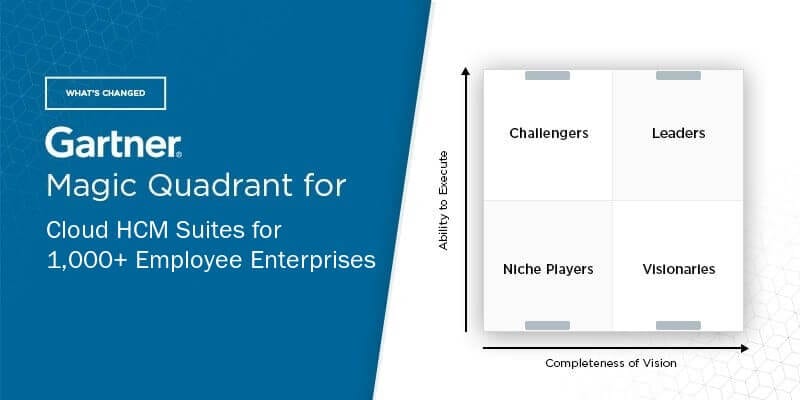 The editors at Solutions Review highlight what's changed since the last iteration of Gartner's Magic Quadrant for Cloud HCM Suites for 1,000+ Employee Enterprises and analyze the new report.
Analyst house Gartner, Inc. recently released the 2020 version of its Magic Quadrant for Cloud HCM Suites for 1,000+ Employee Enterprises. According to Gartner, "cloud human capital management (HCM) suites deliver functionality that helps organizations attract, develop, engage, retain, and manage their workforces. These solutions support a range of HCM capabilities (to varying degrees), including HR administrative functions (admin HR), HR service management (HRSM), talent management (TM) applications, and workforce management (WFM).
A leading factor in the selection process is the overall user experience (UX). According to the researcher, as enterprises support workforces with continually rising connectivity expectations, in-person conversations with HR admins are being replaced by interactions with applications and devices. This move to digital HR administration drives the need for personalized UX, while applications become the face of HR departments. Additionally, user interface (UI) options for HCM suites are increasing with the integration of chatbots and/or virtual assistants. This integration enables users to complete basic transactions and retrieve information without leaving their corporate chat windows.
As a strategic planning assumption, Gartner projects that by 2023, 60 percent of large enterprises will have invested in a major initiative to improve their manager experience by automating administration of worker-related HCM tasks. Additionally, it's predicted that by 2025, 60 percent of global midmarket and large enterprises will have invested in a cloud-deployed HCM suite for administrative HR and talent management. However, they will still need to source 20 percent to 30 percent of their HCM requirements through other solutions.
In this Magic Quadrant, Gartner evaluates the strengths and weaknesses of 11 providers that it considers most significant in the marketplace and provides readers with a graph (the Magic Quadrant) plotting the vendors based on their ability to execute and their completeness of vision. The chart is divided into four quadrants: niche players, challengers, visionaries, and leaders. At Solutions Review, we read the report, available here, and pulled out the key takeaways.
Gartner adjusts its evaluation and inclusion criteria for Magic Quadrants as software markets evolve. As a result, ADP (Vantage HCM) and Ramco have been dropped from last year's report.
Placements are largely the same this year as they were in the previous report. The only major change is that Ceridian is a leader this year after being a challenger in the previous year. This shift is possible since the vendor has expanded its global footprint. Ceridian was also praised for its understanding of the HCM market. Leading the pack in this category is Workday. Significant enhancements from the provider this year include expanded use cases and efforts around skill analytics, enhanced employee profiles, credentials, and developing an internal talent marketplace.
Workday's strongest competitor this year is Oracle, which beat the former out in terms of completeness of vision. The vendor differentiates itself by having over 200 transactions that managers and employees can complete through a mobile device, supporting its strong UX scores. Ultimate Software, which recently merged with Kronos to form the Ultimate Kronos Group (UKG), has expanded capability for suite extensibility and has been able to bring in third-party system data for reporting. The final leader this year, SAP, scored the highest of all the vendors in this report for its global capabilities. The provider supports local best practices and compliance in 99 countries.
There are no challengers or visionaries in this year's Magic Quadrant, making the remaining six vendors niche players. ADP Workforce Now is placed closest to the x-axis and is mainly used by businesses with 500 employees or fewer. The provider plans to integrate other ADP products, such as ADP Standout, for employee engagement. Kronos (UKG) is in closest competition with ADP. After its merger with Ultimate Software, Kronos is likely to continue to target enterprises with fewer than 2,500 employees because of its strong adoption and experience in the lower midmarket. Trailing close behind is Talentsoft. After adding TalentsoftHub, the provider now has core HR functionality to expand into a full HCM suite option. Talentsoft has also supported customers through an e-learning platform in response to COVID-19.
Cornerstone OnDemand is also a niche player this year. The vendor's HR suite will be enhanced with improved organization visualization and modeling capabilities originating from its acquisition of Saba Software in April 2020. Infor and Cegid (Meta4) are the final providers in this year's Magic Quadrant and are also each other's closest competitors. Infor continues to maintain its strong industry vertical knowledge, emphasizing functionality for healthcare and manufacturing, and has added other industries over the years. Cegid, which acquired Meta4 in 2019, is making enhancements to its process automation and onboarding functionality.
Latest posts by Tess Hanna
(see all)