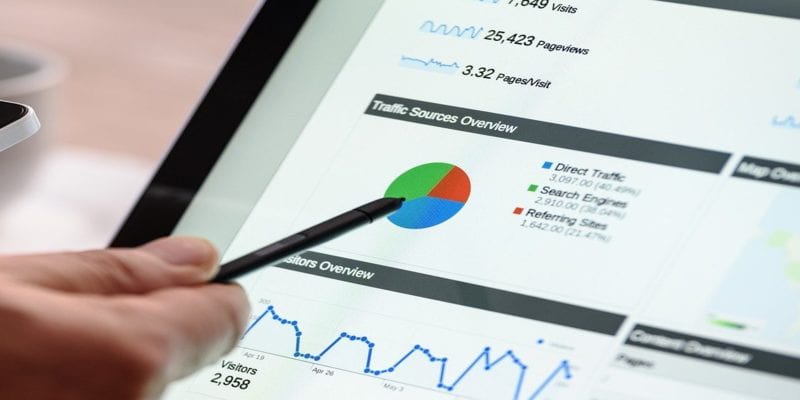 Knowing the best marketing analytics tools and how they can be implemented within your business is crucial in an often-changing business climate.
As the world of business continues to adjust to the effects of COVID-19, it is more important now than ever to have the best marketing analytics tools for your company. As a result of current times, digital solutions are essential. Marketing analytics tools can assist companies in tracking many essential statistics and trends. For example, businesses can track data on page views, site traffic, organic searches, and more. On top of these capabilities, many marketing analytics tools also provide the ability to communicate with your client base through reminders and automated messages.
What helps determine the best marketing analytics tools for a company? Finding a solution that works for your business is a painstaking process for many, as variables including organization size, audience, and general approach to vendor-to-client communication mean that searching for the right fit can take time. Especially considering the current business climate, this time is more valuable than ever. Below, we have indexed some of the best tools available in today's market. We have selected these marketing tools based on their diversity in approach to the variables shown above, as well as notable histories of excellence in the marketing analysis world.
Best Marketing Analytics Tools
---
Adestra is a marketing tool based on email with automation and campaign creation capabilities. Marketers obtain insight into the effectiveness of campaigns so they can easily test or design new customer pathways. It can also send automatic messages, like those for cart abandonment. Targeted email campaigns provide product recommendations based on customer insights. Adestra offers a variety of templates with mobile and web optimization. It also uses collected data to improve email services and boost customer engagement.
---
Adobe offers tools through its three cloud solutions, Document Cloud, Creative Cloud, and Experience Cloud. Marketers can make customized emails through integration with Adobe Dreamweaver. Multichannel site design is equally approachable and synchronized, so users maintain their brand image on a multi-platform level. Adobe allows marketers to maintain watchfulness and control. It also collects deep and predictive analytics to benefit marketing campaigns.
---
ClickDimensions' marketing solutions center entirely around Microsoft tools, as it is partnered with Microsoft Dynamics 365, Azure, and Power BI. ClickDimensions' solution was built inside Dynamics 365, meaning there are no integration costs. Users can synchronize data immediately, keeping things simple. The company offers many crucial marketing tools, like email marketing, campaign automation, web intelligence, surveys, social marketing, and more.
---
GetResponse offers simple and powerful solutions that can be customized to meet the needs of both small and large organizations. GetResponse's marketing solutions include automation, CRM, webinar software, email design, and more. Marketers can use the automation tool to manage complex workflows with ease. GetResponse also provides real-time updates to hundreds of customer journey scenarios. The workflow designer implements a simple block arrangement for conditions, actions, and filters. Customer profiles include tagging and scoring to allow for segmentation.
---
Higher Logic provides marketing tools for various situations, as it assists organizations in building a private online community. This helps groups stay organized and active when they execute targeted communication campaigns as well. In marketing automation, Higher Logic offers solutions for both enterprise and professional groups. Users implement automatic repetitive and manual tasks, simultaneously keeping track of campaign performance.
---
IBM offers marketing automation through the AI called "Watson." The Watson Campaign Automation makes Watson a part of the team. It helps businesses make better decisions and work faster. IBM also offers IBM Watson Marketing Insights. These provide predictive data to anticipate user reactions to campaigns. Predictive and historic data intertwine to create opportunities for dynamic customer experiences. As a result, customers travel down a path specifically segmented for them.
---
Insightly offers both a CRM platform as well as a deep marketing automation platform. This solution offers intricate customer journey management, a drag-and-drop email and newsletter creator, and more. Two-way communication is accessible with customers through embedded forms and landing pages.  Simultaneously, Insightly analyzes and visualizes customer insights with its advanced analytics and reporting engine. CRM features include visual relationship webs, easy sale-to-project transition, and mobile access.
---
Keap offers access to a marketing automation platform and CRM. A small business approach is emphasized as it only includes one user account in the base product. For those new to marketing tools, Keap offers collaboration with an onboard expert to work through setup. It offers a centralized view of customer data that benefits both automation and reporting. Keap helps users understand audience response to campaigns so modifications can be made as needed. It also provides hundreds of business apps, so businesses can craft the platform that fits their needs.
---
Lead Liaison offers marketing and sales automation solutions based in the cloud to any size of business. Its Lead Management Automation platform interpolates lead capture, content creation, social media engagement, and more. Prospects are targeted by engagement, demographics, and social info. This data is also used to activate responsive marketing techniques. Lead Liaison reveals key moments of a buyer's journey to sales due to the focus on lead generation. Salespeople also receive daily lead reports that include "Buy Signals" to indicate the best timing to contact prospects.
---
Omnisend specializes in marketing solutions for retail companies. It offers marketers tools to engage with customers on a personal level. The platform provides smart triggers to submit targeted messages to customers at any stage. For example, companies can send a welcome email to new customers that signed up for their newsletter. If customers forget items in their cart, timely reminders can be issued. Omnisend also offers A/B testing to ensure the right campaign is active for the long term.
---
Latest posts by Sam Marcus-Mayer
(see all)