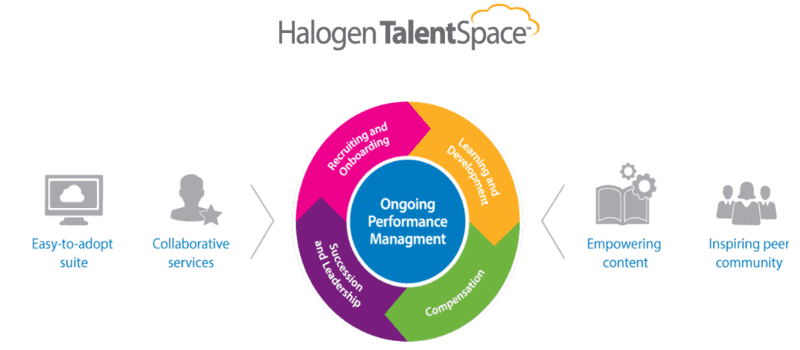 Halogen Software, a Canadian-based software company offering cloud-based talent management suites, announced in the beginning of the week at the SHRM Talent Management Conference & Expo new capabilities added to the company's latest release of Halogen TalentSpace.
Halogen TalentSpace is an easy-to-adopt suite of collaborative services that include:  Performance Management, Learning and Development (L&D), Succession and Leadership, Compensation, plus Recruiting and Onboarding. These services help to empower content and inspires peer community interaction.
"Our mission at Halogen is to bring out the best in people and in teams. Halogen's TalentSpace is the most flexible performance solution for talent management and we've designed it to specifically address shifting requirements for organizations trying to help people be the best they can be at work," says Karen Williams, Chief Product Officer at Halogen Software. "This release makes it easier than ever before to connect everyone in an organization, from leaders to managers to teams to individuals, so each person is working towards achieving the goals that matter."
Halogen TalentSpace offers the ability to quickly and easily create best practice, flexible performance management programs with a number of pre-configured templates and workflows. These forms and processes can then be adopted to meet the needs of any business and its employees. It also offers the ability to give and receive feedback and coaching anytime, anywhere from any device.
Halogen's new responsive homepage dashboard allows for employees to really engage in the user experience. It displays open tasks, goals, development plans and learning assignments. Employees can update any of these topics, view their teams connections and search for colleagues across the organizations while accessing shortcuts and any additional resources they might need.
"This release is an important step towards helping our customers achieve their vision for talent management so they can meet the changing needs of people and their experience of work. Every organization is unique and our TalentSpace solution is an expandable platform that allows HR and business leaders to take the right next step in their talent management journey," adds Williams.

Latest posts by Elizabeth Quirk
(see all)