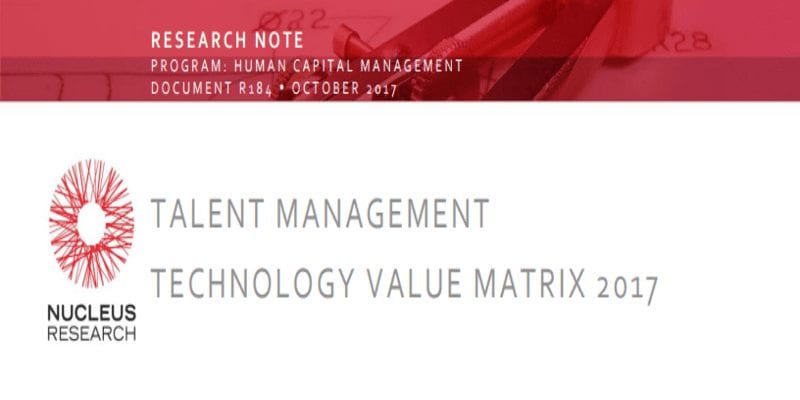 Nucleus Research, the Boston-based technology and software research firm, recently released their Talent Management Technology Value Matrix 2017 report.
The Talent Management Tech Value Matrix report assesses 21 talent management vendors on solution usability and functionality, as well as future strategic direction. The research firm asserts that specialization across key areas of talent management will drive vendor success and that buyers are best served by suites with deep functionality that addresses their most pressing strategic talent priorities, particularly in the area of ongoing employee development, performance and engagement.
The biggest takeaway in this report is the fact Saba Software has quickly made its way into the Leader quadrant, on the heels of the company's decision to acquire Halogen Software to offer best of breed solutions at the intersection of performance management and learning.
It's a smart move, and the analysts at Nucleus Research believe 2018 will touch off a fire sale for vendors that fail to develop sound strategies to survive and thrive in the new normal—where everything they do today is also available from full-suite providers of technology for all of Human Capital Management (HCM).
As noted in previous Talent Management Technology Value Matrices, when capable technology for talent management is available in a one-vendor suite that features functionality for all of HCM, employers are usually better off staying still. The logic in seeking an end-to-end suite solely for talent management from a separate vendor makes vanishingly little sense when the capabilities already there are competitive and progressive.
Similar to Gartner's Magic Quadrant reports, the Value Matrix provides a grid where you can find all 21 talent management vendors plotted in either the Leaders, Facilitators, Core Providers, or Experts quadrant. Each vendor has been evaluated and scored based on their solution usability and functionality.
The Nucleus Research report provides company profiles accompanying the grid, letting their readers gain insight into what each company has done different within the past year, if vendors have added any new solutions or applications in their talent management suites.
See who made it in the Talent Management Technology Value Matrix 2017 report from Nucleus Research.
---
Looking for more? Download our all new free buyers guide where you can find the top Talent Management/HR software vendors, snippets about their highest ranking solutions and products, plus the top 10 questions and tips to ask yourself and software vendor before purchasing!
And don't forget to follow us on Twitter, LinkedIn and Facebook for all the latest in Work Tech space!

Latest posts by Elizabeth Quirk
(see all)