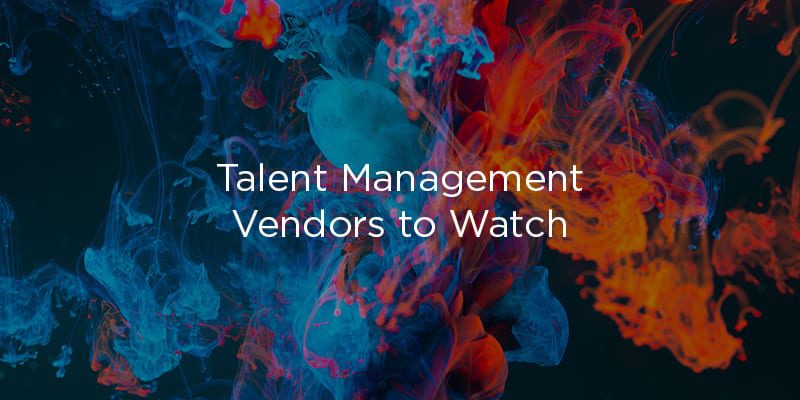 Solutions Review's Talent Management Vendors to Watch is an annual listing of solution providers we believe are worth monitoring. Companies are commonly included if they demonstrate a product roadmap aligning with our meta-analysis of the marketplace. Other criteria include recent and significant funding, talent acquisition, a disruptive or innovative new technology or product, or inclusion in a major analyst publication.
Regardless of the number of features a Talent Management solution boasts, it's still built off of a core idea; to ensure the highest percentage of employee retention and engagement. Talent Management Suites (TMS) are derived from core HR software solutions with the addition of some key features designed to manage and support employees. Recently, Human Capital Management (HCM) suites have become popular as well, as they support core HR, payroll, talent management, workforce management, and HR service management.
These talent management vendors to watch have met at least two of our five points of inclusion and represent, to some degree, the evolution of the marketplace. It's in that spirit we turn our attention to the immediate future. Providers are listed in alphabetical order. Provider names and logos are linked so you can learn more.
BirdDogHR simplifies talent management for hard-working organizations by providing recruitment and applicant tracking, onboarding, performance, learning management, succession planning, benefits management, payroll, ACA compliance and time and attendance tracking. BirdDogHR specializes in high-consequence and government contracting industries since they have unique needs. Companies from other industries can use the BirdDogHR talent management solution too, but the solution is built with the most rigorous compliance needs in mind.
Deltek has offered its talent management software since 2015 with its acquisition of HRsmart. Their talent management solution is available as a modular system that allows companies to choose what functions they need. Each solution included in the suite is available as either a best of breed or as a standalone, while also being compatible with other modules. With this option, clients are not only able to choose the solution they need but also replace existing software with ease. Whether you need the full suite or just a few components, Deltek Talent Management lets you fit the software into your own business needs.
Kronos offers the industry's most powerful suite of tools and services to manage and engage your entire workforce from pre-hire to retire. The company's HCM software provides an end-to-end employee lifecycle management solution, and because workforce needs are constantly changing, Kronos solutions are designed to evolve with you to help meet the challenges you face every day, regardless of your industry or where you do business. Kronos HCM solutions help organizations increase employee engagement for stronger business results to strengthen customer satisfaction, and increase revenue.
TalentQuest provides an innovative Talent Management software suite that empowers companies to more effectively hire, manage, develop and retain the best talent. Their solutions leverage the unique traits, tendencies, and learning styles to help organizations maximize the potential of each employee. TalentQuest's cloud-based talent management solutions are used by leading organizations worldwide. The TalentQuest platform is powered by behavioral science and the provider's proprietary TQ Talent Insights.
Looking for more? Consider downloading our Talent Management Buyer's Guide.
Latest posts by Tess Hanna
(see all)