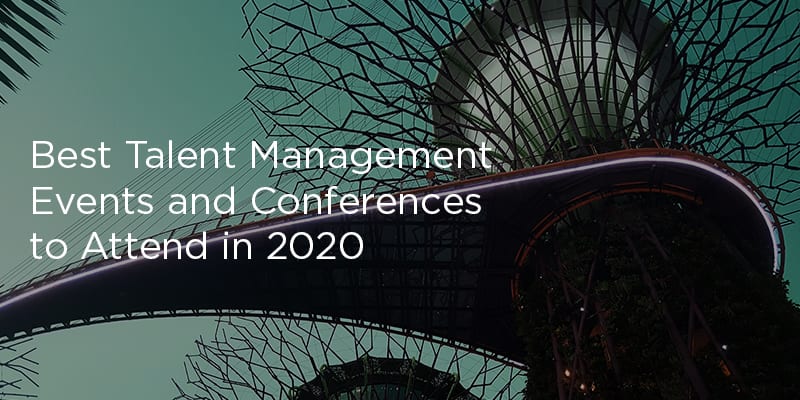 This is a directory of the best talent management events and conferences. We do our best to provide readers with buyer and practitioner resources, including the Solutions Review Buyer's Guide. Sometimes though, you need extra exposure, the kind you can only get in person.
The editors at Solutions Review have created this list of the year's most anticipated talent management events to attend. We've scoured the web, consulted with conference representatives, and identified where the industry's top brass will be spending their time. If you are looking for top-notch keynotes, interesting sessions, best practices demos, and legitimate networking opportunities, mark your calendar.
All of the conferences listed are organized by independent analysts, researchers, and media outlets. We have not listed solution provider or vendor-centric user demonstrations. The talent management events are listed in chronological order and may include additional dates. Clicking More Information directs you to the event home page.
HRPA2020
Date: January 22-24
Location: Toronto, Canada
Description: The HRPA Annual Conference & Trade Show brings together the people and companies redefining human resources to offer the industry's boldest and brightest ideas, innovations, solutions, tools, resources and best practices. Featuring 8 world-renowned keynote speakers, 75+ HR professional development sessions, tons of networking opportunities, and over 250 exhibitors showcasing cutting-edge HR products and services, the HRPA2020 Annual Conference & Trade Show is Canada's most influential event for HR leaders & professionals who want to stay ahead of the curve.
North American HR Executive Summit 2020
Date: January 27-28
Location: Orlando, FL
Description: Human Resources professionals are faced with constant change as their organizations work to advance goals, develop projects, and shape the corporate culture of senior management and its workforce. It falls to them to implement strategies from the top down, and also to understand feedback and input from grassroots and frontline workers.  The North American HR Executive Summit brings together the "who's who" of industry executives, cutting edge service and solution providers, and media partners from across North America to network, benchmark, share, and learn real-world solutions to universal challenges that face every HR professional in their daily work.
Hiring Success
Date: February 11-12
Location: San Francisco, CA
Description: Founded by an HR Tech startup, Hiring Success was developed on the premise that technology can revolutionize Human Resources and Talent Acquisition. The Hiring Success 2019 conference has a variety of sessions that explore core HR Tech topics, such as blockchain in recruiting and augmented reality. Attendees can look forward to the best industry speakers, exceptional content, the latest innovations including a Hackathon and Recruiting Startup of the Year competition, hands-on learning and working sessions, and opportunities to network with the brightest minds in Talent Acquisition.
HR West
Date: March 9-11
Location: Oakland, CA
Description: The HR West Conference has convened annually for 36 years in the San Francisco Bay Area, attracting professionals from across the country, with a heavy presence from the Silicon Valley companies and their HR experts. These HR experts represent some of the most seasoned HR professionals who deliver on some of the biggest HR demands in the profession, since they practice HR in California and around the world.
2020 People Analytics & Workforce Planning Conference
Date: March 23-25
Location: At HCI's 2020 People Analytics & Workforce Planning Conference, you will learn how to integrate your people strategy with your business strategy from a hand-picked group of thought leaders, practitioners, and experts. Get peer-to-peer networking, workshops, and hands-on practice to support your people analytics initiatives across the talent lifecycle. Learn how to develop, adapt, and execute workforce plans when your environment is constantly changing.
SOAHR 2020
Date: March 23-25
Location: Atlanta, GA
Description: At SOAHR 2020 you can experience 50+ in-depth, trend-forward sessions and workshops. You'll leave the conference with pages and pages of actionable tactics that you can apply the minute you get back to the office, plus tons of strategies that you can bring back to your team. You'll hear key insights and inspiring takeaways from leading experts and top-notch brands, including Google, Turner, Panasonic, Georgia Power, Metro Atlanta Chamber, Randstad, ADP and more.
Modern Business Experience 2020
Date: March 23-26
Location: Chicago, IL
Description: Forge relationships with your colleagues in finance, supply chain management, and customer experience to help champion change. Connect one-on-one with your HR peers and colleagues to discuss best practices, lessons learned, and roadmaps to results. Hear expert perspectives on the future of work, and learn about the forces shaping future HR strategies. Be inspired by HR leaders and practitioners, and gather tactical takeaways to apply within your organization.
SHRM Talent
Date: April 20-22
Location: Orlando, FL
Description: New recruiting strategies and tools are reshaping the competition for talent. Learn about the tactics and technologies that are helping leading organizations and top brands secure and retain the best and brightest. Return to your workplace with practical tools to forge a more competitive and innovative talent strategy.Poorly defined hiring criteria can hold your organization back from realizing maximum productivity and human potential. Where talent shortages exist, new talent pools must be tapped. Attend SHRM Talent for cutting-edge strategies and creative recruitment ideas that will help you explore non-traditional sources for your future workforce.
Unleash America 2020
Date: May 12-13
Location: Las Vegas, NV
Description: At UNLEASH America 2020, join the work revolution and a rapidly expanding network of leading pioneers sharing their own workplace technology strategies that have helped transform their organizations' success in a unique, interactive and exciting two-day event. Opening the door to the next decade, this unique event brings a new era of HR Technology insights, also offers unparalleled access to best practice, trends, tools, and techniques from Fortune 500 companies and start-ups on what's working, what's not and learn a clear, actionable strategy for introducing and cultivating new ideas and practices in your organization.
RecruitCon
Date: May 13-15
Location: Denver, CO
Description: Does your recruiting program have what it takes to beat out the competition for top talent? RecruitCon 2020, will continue to help talent acquisition & management executives and leaders uncover new and emerging recruiting practices – while also offering access to new-tech, cutting-edge analytics, streamlining hiring as a process, and delivering data as a foundation for decision making.
2020 Strategic Talent Acquisition Conference
Date: June 22-24
Location: Everett, MA
Description: At HCI's 2020 Strategic Talent Acquisition Conference, you will learn to rethink and prioritize your approach to talent acquisition at every touchpoint. Consider how process design can improve talent outcomes. Learn from industry experts, leading practitioners, and your peers in the audience to identify, attract, and acquire the top talent you didn't know existed.
HR Tech Conference
Date: October 13-16
Location: Las Vegas, NV
Description: As the industry's leading independent event for 20+ years, HR Tech features an unrivaled cutting-edge agenda for HR and IT professionals from businesses of all sizes! With a primary focus on driving HR success through technology, the HR Technology Conference is intended for those looking to continuously optimize usage of current HR systems as well as those looking to buy. It's where you'll gain the insight needed to help you make critical HR system decisions that will fuel your business while supporting your organization's unique needs.
ReimagineHR Conference
Date: October 26-28
Location: Orlando, FL
Description: The "future of work" conjures up images of robots, automation, and artificial intelligence. But there are some more subtle underlying trends that HR executives need to recognize and exploit — trends that will fundamentally change how work gets done. Join ReimagineHR Conference 2020 to get a critical update on the future of work, and the progressive practices you need to build your HR action plan. Uncover emerging trends and gain insights from Gartner's exclusive research that will enrich your strategy and deliver more significant business results.
Latest posts by Tess Hanna
(see all)