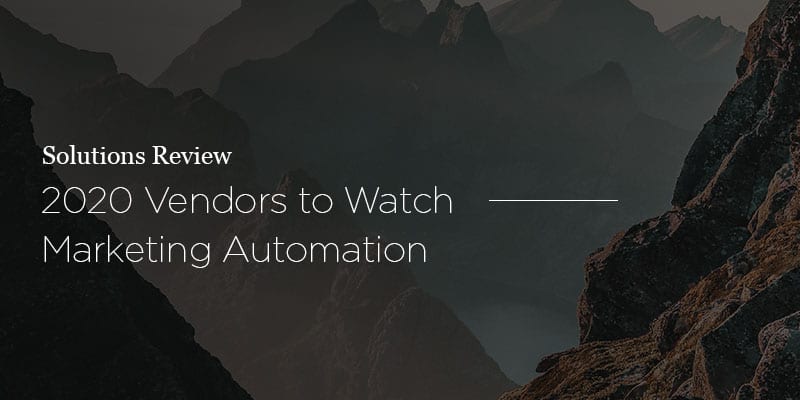 Solutions Review's Marketing Automation Vendors to Watch is an annual listing of solution providers we believe are worth monitoring. Companies are commonly included if they demonstrate a product roadmap aligning with our meta-analysis of the marketplace. Other criteria include recent and significant funding, talent acquisition, a disruptive or innovative new technology or product, or inclusion in a major analyst publication.
Who are the Marketing Automation Vendors to Watch in 2020?
As we enter the new decade, the editors here at Solutions Review are focusing on what lies ahead. The marketplace for marketing automation platforms is maturing everyday, getting more and more crowded with software tools for a variety of use cases, verticals, deployment methods, and budgets.
Marketing automation is a diverse field, filled with solutions that can address a variety of needs. Marketers in companies big and small have more responsibilities than ever in this digital age, and it can be challenging to handle the sheer amount of data and information required to address modern customer needs. With the advent of AI/ML and regulations such as GDPR and CCPA, it's important that marketers are using the most advanced and capable tools available to them.
In that spirit, we've turned our gaze to the future of marketing automation software and platforms. Whether it's inclusion in a recent analyst report, the release of an innovative tool, or a bump in venture funding, these are the marketing automation vendors that have earned watch list status from Solutions Review for the year ahead.
Note: Companies are listed in alphabetical order.
Drift
Drift is a conversational marketing platform focused on connecting your business with leads in real-time. Drift's LeadBot qualifies site visitors, identifies relevant sales reps, and automatically books meetings. Leads and potential customers expect rapid response times, even if your organization doesn't have any marketing or sales professionals available. Drift's technology quickly engages with these potential opportunities 24/7 and makes sure that a productive, in-depth discussion will happen in the future. In 2019, Drift announced its acquisition of Giant Otter, as well as the release of Drift Automation. Drift was also named the Best Overall Conversational Marketing Solution in the MarTech Breakthrough Awards.
Iterable
Iterable is a growth-marketing platform that emphasizes multichannel relevance at scale, giving users the ability to engage with customers on a variety of channels. Marketers can harness data for campaign activation and behavior-based personalization; using an elastic architecture, Iterable allows any data source to trigger various campaign actions. It maintains an approachable user interface, while pairing a simple drag-and-drop dashboard with an analytical marketing approach. At the end of 2019, Iterable raised over $55 million in Series D funding. Earlier in the year it also announced a metadata-driven personalization feature,
OutboundEngine
OutboundEngine helps marketers target the right people with the right conversation. The platform's data collection capabilities identify the newest and most engaged customers. After discovering the ideal contacts, users can create focused email and social campaigns with ease. OutboundEngine provides access to an up-todate library of past, present, and future campaigns. This library also displays the success rate of certain campaigns, so marketers can build on their brand's strengths. In 2019, OutboundEngine raised over $14 million in venture and debt financing. It also recently launched its Franchise Marketing Platform.
Sendoso
Sendoso is a unique sending platform that sources, stores, ships, and tracks ROI for all of its customers' products. Customers can view a real-time feed of of team activity, and can track sent and delivered items. Other features include A/B outreach campaign testing, co-branded shareable e-Gift templates, customer facing internal merchandise stores, and more. Customers also receive a personal Customer Success Manager that aids in setting up successful campaigns and acts as a general Sendoso resource. This vendor just raised $40 million in a recent Series B funding round. It was also named as 2019 Gartner Cool Vendor in Technology Marketing.
---
Latest posts by Anna Birna Turner
(see all)