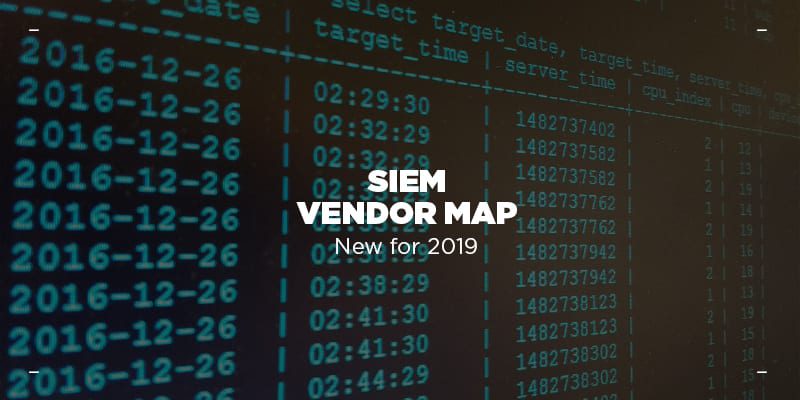 Solutions Review, the leading enterprise-level vendor-agnostic technology publication, announced the release of their latest resource: The SIEM Vendor Map. The SIEM Vendor Map profiles 22 of the top players in the market and their solutions; it then positions them in their proprietary Vendor Map based on their technological focuses and their respective strengths.
The SIEM Vendor Map will help decision-makers find the right SIEM solution for their business's individual needs, as well as help them internalize the key components of an optimal next-generation SIEM solution during their selection process. The resource examines the delicate balance of three major capabilities in SIEM solutions—threat detection, log management, and compliance— including how they inform one another and how vendors prioritize each in their products.
The editors of Solutions Review gathered their information via a meta-analysis of available online materials and reports, conversations with vendor representatives, and examinations of product demonstrations and free trials.
As a vendor-agnostic publication, Solutions Review weighed each product and provider without bias to obtain the most objective perspective possible on each. The goal of the SIEM Vendor Map is not to endorse a particular vendor or solution, but to supplement enterprises' research into a complex and increasingly vital marketplace.      
"While the digital perimeter is still a vital component of any enterprise's cybersecurity platform, it's gradually beginning to give way to new priorities as hackers evolve their tactics and tools," said Ben Canner, Editor for Cybersecurity at Solutions Review. "Threat detection, log management, and compliance have started to play a far more central role in enterprises' cybersecurity plans and platforms, and this SIEM Vendor Map was written to showcase the power and versatility of those capabilities."
"We firmly believe the Solutions Review SIEM Vendor Map will serve as an important resource during the often arduous solution selection process, cutting through sales jargon and providing a clear picture of the vendors included."   
The Solutions Review SIEM Vendor Map can be downloaded at no cost here.  
About Solutions Review
Solutions Review is a collection of technology news sites that aggregates, curates and creates the best content within leading technology categories. Solutions Review's mission is to connect buyers of enterprise technology with the best solution sellers.
Over the past three years, Solutions Review has launched over 15 tech Buyer's Guide sites in categories ranging from Cybersecurity to Mobility Management, Business Intelligence, Data Integration, Cloud Platforms, and Content Management.     
Other Resources from Solution Review: 
The 10 Coolest SIEM and Security Analytics CEO Leaders
5 Tips for Setting Up a Security Operations Center (SOC)
Get Your Employees to Embrace SIEM Best Practices!
4 Tips to Make Data Breach Detection Easier For Your Enterprise
Enterprises: Don't Become Complacent in Your Cybersecurity!
How to Make Your SIEM Solution Deployment Easier for Your Enterprise
Comparing the Top SIEM Vendors — Solutions Review
How UEBA Can Prevent Insider Threats in your Enterprise
SIEM vs Security Analytics: What's the Difference?
Should Risk Analytics Bridge the Cybersecurity Talent Gap?
What's Changed? The Gartner 2017 Security Information and Event Management (SIEM) Magic Quadrant
The 25 Best Security Analytics and SIEM Platforms for 2018
Are C-Level Leaders on the Chopping Block over Cybersecurity?

Latest posts by Ben Canner
(see all)