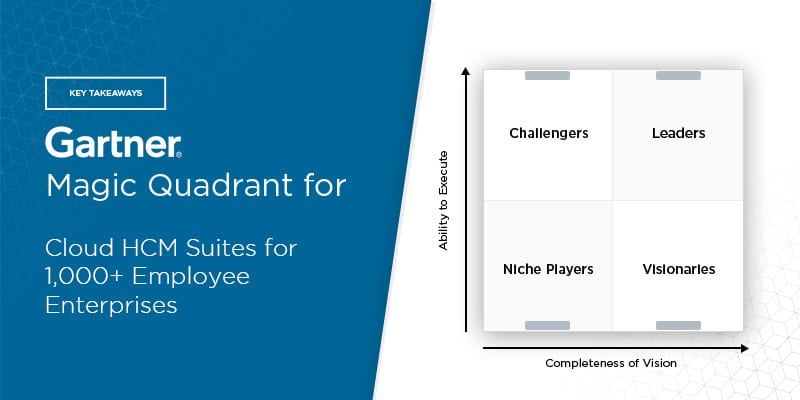 Analyst house Gartner, Inc. recently released its 2019 Magic Quadrant for Cloud HCM Suites for 1,000+ Employee Enterprises. Gartner states that "cloud Human Capital Management (HCM) suites deliver functionality that helps organizations attract, develop, engage, retain, and manage their workforces." Additionally, Gartner has predicted that by 2020, 60 percent of global midmarket and large enterprises will have invested in a cloud-deployed human capital management suite for administrative HR and talent management. However, these enterprises will still need to source 20 percent to 30 percent of their HCM requirements through point solutions.
Cloud HCM suites support a range of HCM capabilities, such as HR Administrative Functions (Admin HR), HR Service Management (HRSM), Talent Management (TM) applications, and Workforce Management (WFM). Primarily, HCM suites are used to manage full-time and part-time employees. However, some providers have recently added functionality dedicated to contingent and/or freelance workers. A current trend in the market is to use as much of an HCM suite as meets the user's needs; but, exceptions are expected and pursued when business aspirations cannot be met. This strategy based on exceptions is often assisted by advanced integration technologies, including Integration Platform as a Service (iPAAS) or HRSM platform features to mitigate data and process flow challenges.
In this Magic Quadrant, Gartner evaluates the strengths and weaknesses of 13 providers that it considers most significant in the marketplace, and provides readers with a graph (the Magic Quadrant) plotting the vendors based on their ability to execute and their completeness of vision. The graph is divided into four quadrants: niche players, challengers, visionaries, and leaders. At Solutions Review, we read the report, available here, and pulled out the key takeaways.
This year's Magic Quadrant features three new vendors: ADP Workforce Now, Cornerstone OnDemand, and Talentsoft. The addition of ADP Workforce Now likely comes as a result of its consistent user experience that offers straightforward interfaces for professional users. Cornerstone OnDemand, formerly a leader in the now-retired Magic Quadrant for Talent Management Suites, is named a niche player in this report. The provider's status is possibly because of its strong product quality, system performance, and integration capabilities within the HCM. The last new vendor this year, Talentsoft, is a well-established talent management provider that offers administrative and WFM functionality, as well as payroll services.
The leader quadrant of the graph is populated by Ultimate Software, Workday, Oracle, and SAP. Oracle, which had the strongest completeness of vision, recently added an Experience Design Studio and expanded the use of digital assistants, mobile responsive design, and alternative user experiences. Ultimate Software has the highest ability to execute. This is possibly the result of its solution's highly rated ongoing account management, available training, and enhancement request processes. Workday, placed in the middle of Oracle and Ultimate Software, is the first of the large-enterprise HCM vendors to offer multiple cloud deployment options. The final provider in the leader category is SAP, which offers the most extensive features for extending or customizing its applications through the SAP Cloud Platform (PaaS).
The only challenger in this year's Magic Quadrant is Ceridian. Though the provider's deployments outside of North America are limited aside from stand-alone WFM implementations, Ceridian's WFM capabilities, including labor scheduling and optimization, makes the solution well suited to North American businesses that require tight integration of WFM to admin HR. This includes payroll and benefits administration, as well as emerging ™ and global needs. Additionally, the vendor recently announced that its roadmap now offers Flexible Earned Wage Access (FEWA) for its payroll offering.
The most populous section of this year's graph is the niche player quadrant. The eight providers listed in this category are ADP Workforce Now, Talentsoft, Cornerstone OnDemand, Kronos, ADP Vantage HCM, Meta4, Infor, and Ramco Systems. Kronos' solution is best suited for North America-based mid-market businesses with primarily hourly workforces, such as those in healthcare, retail, or manufacturing. Placed slightly below Kronos, is ADP Vantage HCM. This vendor has strong business operations and is well funded, which fuels significant research and development activity. Meta4 was also a niche player this year. The company's placement is possibly due to its focus on targeted geographies and industries, compared with tools from Meta4's competitors. Infor, placed the lowest among the other niche players, likely earned its placement because its customer base has grown, but not at the same rate as some competitors. Finally, Ramco Systems possibly gained its status because its focus on the adoption of TM modules is quite low.
No vendors were listed as visionaries in this Magic Quadrant. However, Gartner listed three providers as honorable mentions, namely, Works Applications, CDP, and Talentia.
Looking for more? Download our Talent Management Buyer's Guide and check out the top-24 products available in the market with full page vendor profiles, key capabilities, and questions to ask yourself and the vendor before purchasing a talent management solution. For those just starting the talent management software search process, this is truly the best resource to help get you going.
And don't forget to follow us on Twitter, LinkedIn, and Facebook for all the latest in Work Tech space!
Latest posts by Tess Hanna
(see all)